The Isiolo District lies at the northern foot of Mt Kenya rising above the expansive range lands of northern Kenya.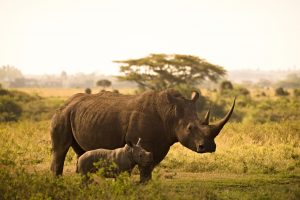 The arid and semi-arid zones district sits as a divide between the populous agricultural highlands of the Mt. Kenya region and acts as a gateway into the vast lowlands of North Kenya inhabited by various nomadic pastoralist communities where wildlife and livestock freely co-exist.
Together with the adjacent Samburu, and divided by the river Ewaso Nyiro, the three reserves form a very popular tourist destination because of the diverse wildlife populations they support.
Unlike other wildlife areas in Kenya's northern tourist circuit, the reserves, which are popularly known as the Samburu Ecosystem, sustain free ranging wildlife species both within the three reserves as well as far into community lands.
Climatic Conditions – Temperatures range from 30ºC during hottest months to 20ºC between July and September. Annual rainfalls range between 100mm to 300mm on average usually divided into two seasons, short rains in October/ November and long rains between February and May.
Wildlife – Besides normal species found elsewhere in Kenya, the area is a natural home to the five rare species known as the five northern species which are endemic to this area. They are Grevy's zebra, reticulated giraffe, Beisa Oryx, Somali ostrich and the gerenuk. Shaba is also the home for the highly endangered Williamson's lark. All these rare species can only be found inside this game reserve.
Access – Roads: From Nairobi through Nanyuki on a tarmac road to Isiolo, then a 22km murram road. Air: Buffalo Springs Airstrip is used by scheduled flights from Nairobi each day linking the reserves to other tourism destinations.
Best time to visit – All the year round
Activities – Game viewing safari, nature walks, entertainment by pastoralist cultural dancers, and visits to cultural villages to get the experience of nomadic lifestyle in the community.